There's not much going on in terms of new issues right now and I'd expect that to last for a bit. We did have a strong IPO last week (details below).
We are producing some new items that will be helpful as we come out the other side of this. One thing we did for our own use is compile a 2019 IPO Year Book which we use internally to review deals. It's a little old fashioned but it's good to have it all in one place. We will be doing one each quarter and rolling them up at the end of each year.
For those that want that kind of thing you can download a copy here: IPO Candy 2019 Yearbook and we'll send out the Q1 2020 version shortly. Any feedback is welcomed.
We also have our first "broken candy" research note ready to roll so that will be hitting your inbox tomorrow. We also have a brief survey coming your way to help us name a brand new product (!) that will roll out next week.
Last Week
We witnessed another successful launch in a challenging IPO Market. Keros Therapeutics (KROS) priced at the high end of the range ($16) and increased the number of shares offered. The stock had good aftermarket demand and ended the week at $21.57. It's climbed even higher to $27.18 today.
As we pointed out last week this small company has a hefty set of milestone payments that are not front and center in the deal but part of the filings. These may or may not come to fruition but it's one reason to at least keep an eye on this one.
Next Week
We'll be getting lots of Q1 earnings reports and will update our consumer and software groups with these numbers. We will probably begin to see some changes in the revenue-generating efficiency of these companies as some prove to be more crisis resistant than others.
There are also quite a few lockups expiring next week. One that we have watched closely that is Progeny (PGNY). The company focuses on "fertility benefits" that companies can offer their employees. In the current virus-induced crisis this isn't a great time for them to grow their business but when we are through this and things normalize demand for their services will resume.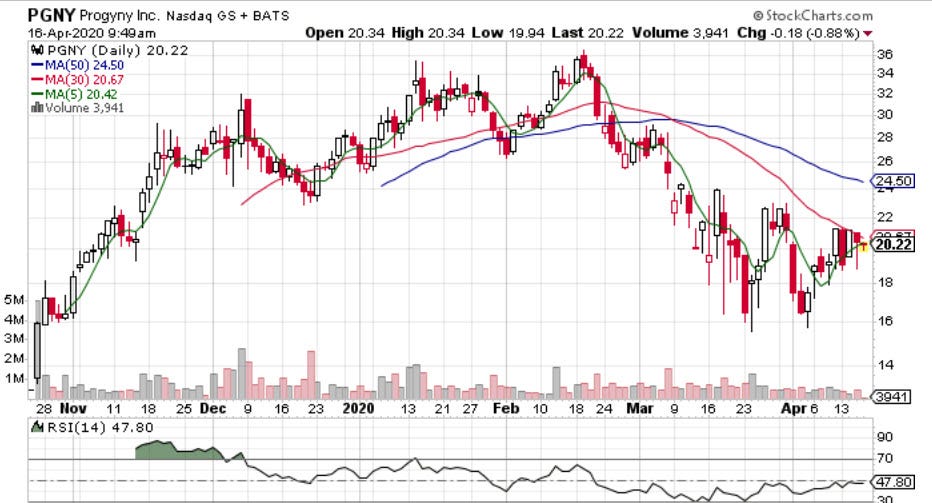 The Candyman
Did someone forward this to you? You can join over 2,000 regular readers here:
About IPO Candy
IPO Candy was founded in 2009 to be the best source for IPO information, analysis, insights and alerts. Top investment banks, investors and companies planning their IPO enjoy our services. We also maintain a model portfolio, provide investment alerts and are developing new services all the time so feel free to make suggestions!
DISCLAIMER: What we provide is only for informational use. It is not intended to provide investment, tax, legal, or personal advice. Anything we publish does not constitute a suggestion, solicitation, or offer to purchase or sell securities. We do not warrant the completeness or accuracy of anything and assume no such duty to update such information - although you know we would! For more, please refer to the sections of our website that deal with our terms & conditions and privacy policies.