During these slower times in the IPO markets we like to dig into stories that have fallen off the radar screens of most investors. We've been impressed with Arlo products for years and now the stock reflects a very broken story. The future looks brighter for the company and they have a nascent SaaS business that will help improve their visibility and valuation.
We found the valuation to be irresistible at less than net cash. It's true they are still losing money but they have more than adequate time to continue to build the business.
Here is the summary of our note. The full version requires an IPO Candy subscription but here is the link: Broken Candy: Arlo Technologies.
Arlo Technology (ARLO) is a maker of connected cameras and related software that was spun out of NETGEAR (NTGR) with an IPO on August 2, 2018 at $16/share. Shares traded higher immediately following the IPO and reached $23 before starting their steady decline to the current $2.15.
There are two main reasons for the massive reset. The first is that their product revenue declined in 2019 to return to 2017 levels. The second is that their "attach rate" for paying subscriptions was very low. It also didn't help that NETGEAR distributed their 62.5 million shares of Arlo stock to their shareholders effective December 31, 2018. The chart conveys just how broken this has become.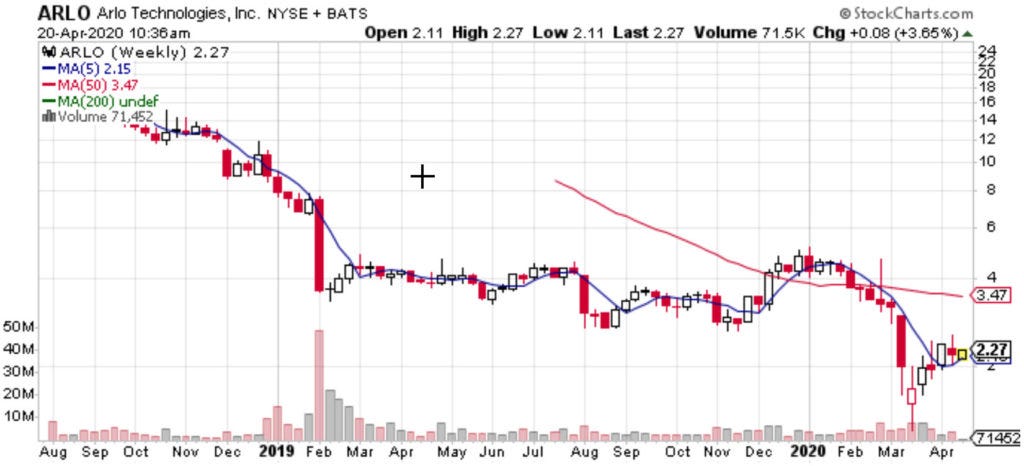 Investors don't like hardware businesses because they are variable and carry low gross margins. But the software business, particularly the SaaS model, is a different story. There are a few key developments at Arlo that suggest the company is already turning around their fortunes.
In the 2019 the company started bundling a free trial of their Arlo "Smart" subscription with their product and made the pricing and features much simpler. As these trials expire we are likely to see a material increase in the attach rate and SaaS revenue.

Arlo did a deal with a large security firm based in Europe to take over all their distribution in Europe. The deal included a $50M payment and purchase commitments that could add up to $500M over the five year deal. The first minimum ($20M) was already paid for 2020 and the next one is $40M for 2021.

New products like the video doorbell and others will contribute to growth in 2020. Hardware has consistently been a strong point for Arlo and they have made substantial upgrades to their software to remain the #1 or #2 vendor in their category.

Easier comparisons to results last year and conservative estimates set the stage for better reported growth and increasing estimates.
Valuation is compelling at these levels. The current market value of $140M compares to revenues of $370M and cash on the balance sheet of $257M. Right now the company has a negative enterprise value of $100M. Setting the value of the business to zero would already result in a stock price of $3.42. Our model suggests that the shares are worth at least $6. At the price the valuation would be just 1.2x sales.
We would love to see the company take some actions to lower expense levels further and accelerate their timeframe to profitability. This is a space where large players abound and wonder if Arlo should also be looking at "strategic" options with some of them.